Evolution of the Greater Monterey County Region
To meet requirements for the Proposition 50 Integrated Regional Water Management (IRWM) Grant Program, six IRWM Plans were initially developed within the Central Coast region:
The first three plans covered geographic areas within Monterey County. Together these three plans covered most of the Salinas Valley, all of the Pajaro River watershed, all of the Carmel River and San Jose Creek watersheds, and the Monterey Peninsula. However, many key areas of Monterey County were not represented within any of these plans, leaving significant coverage voids for the purposes of IRWM planning and project implementation, including in particular the Big Sur coastal watersheds and portions of Salinas River watershed, including the Gabilan subwatershed, as well as northern Monterey County.
Representatives of the Central Coast IRWM Regions agreed during a meeting in February 2008 that the Salinas Valley plan should be expanded to include those areas of Monterey County that had not been represented in previous plans. A Regional Water Management Group was formed in 2009 to lead the effort in developing a new IRWM Plan for an expanded IRWM region. The new "Greater Monterey County" region eliminates all previous IRWM area coverage voids within Monterey County.
Regional Boundaries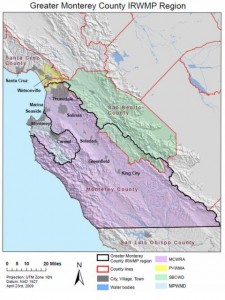 The Greater Monterey County region includes all of the Salinas River watershed north of the San Luis Obispo County line (encompassing a small portion of San Benito County where the Salinas River watershed extends outside of Monterey County), and includes the entirety of Monterey County exclusive of the Pajaro River Watershed IRWM region (which covers the Pajaro River watershed) and Monterey Peninsula, Carmel Bay, and South Monterey Bay IRWM region (which covers all of the Monterey Peninsula Water Management District jurisdiction, plus all of the Carmel River and San Jose Creek watersheds, plus all of the Seaside Groundwater Basin) established under Proposition 50.
Click here to view maps that illustrate the change in geographic coverage from the Salinas Valley IRWM planning region to the Greater Monterey County IRWM planning region. You can also click here to download a .kml file to open in Google Earth (downloads as a zip file).
The Greater Monterey County IRWM Plan
An IRWM Plan for the Greater Monterey County region was completed and formally adopted by the Regional Water Management Group in April 2013. The Greater Monterey County IRWM Plan supersedes and replaces the Salinas Valley IRWM FEP, and meets all requirements established by Proposition 84 and Proposition 1E as specified in the Integrated Regional Water Management Grant Program Guidelines, Appendix C: Guidance for IRWM Plan Standards (DWR 2012). The Plan is intended to be a living document that will be updated and amended as needed to meet the changing conditions in the region as well as the changing legislative standards of the State's IRWM Grant Program.
To read the complete plan in a low resolution format, click here to download it. To view the chapters individually in high resolution, go to the Complete Plan page.